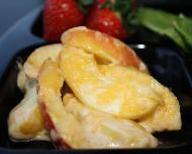 Ingredients
25.8 lb Idaho Apples, Whole, Fresh
1 cup Vanilla Extract
6.25 lb Cheddar Cheese
6.25 qt Plain Nonfat Yogurt
½ cup Cornstarch
1/2 T Salt
Directions
Preheat oven to 400°F. Spray four deep steam table pans with cooking spray.
Prepare Ingredients
Wash, core and slice apples. Shred cheddar cheese.
Prepare Yogurt-Cheese Mixture
In a small bowl, whisk cornstarch and vanilla extract until cornstarch is dissolved.
In a large bowl, mix yogurt, vanilla mixture, salt, and cheddar cheese.
Prepare and Cook Dish
Spread 25 cups of apples as evenly as possible in each steam table pan. Divide yogurt-cheese mixture into four parts. Using a rubber spatula spread 1 part of the yogurt-cheese mixture evenly over each pan of apples. Bake for 15-20 minutes. Note: it is very important to not overcook this dish as the cheese mixture will become grainy. Dish is cooked when cheese is melted and apples are warm, yet crisp.
Serve Dish
Serve 1 cup apples topped with yogurt-cheese mixture. Apple Vanilla Fondue should not be held in the warmers for longer than 20 minutes.
Chef Tips
The following Idaho apples are great to use in cooking: Fuji, Rome, Jonathan and Golden Delicious. Idaho apples are available from August through May.