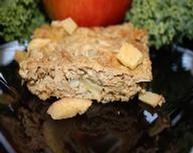 Ingredients
3.25 lb Idaho Apples, Whole, Fresh
2 T Salt
4 lb Onions, Whole, Fresh
2 T Pepper
13.5 lb Ground Turkey
¼ c Sage
6 c Oats, Quick
¼ c Dry Mustard
2 qt Eggs
2 T Italian Seasoning
2c Tomato Sauce
2 T Garlic Granules
Directions
Preheat oven to 400°F. Line four shallow steam table pans with parchment paper.
Prepare Ingredients
Wash, core and small dice apples. Peel and small dice onion.
Prepare Meatloaf
In a mixer, using the paddle attachment, mix ground turkey, diced apples, diced onions, oats, eggs, tomato sauce, salt, pepper, sage, dry mustard, Italian seasoning, and garlic granules. Note: do not over mix as it will make the meatloaf tough
Cook Meatloaf
Divide meatloaf evenly into 4 sections. Spread each section evenly into a shallowbaking pan using a rubber spatula. Bake for 45 minutes or until reaches 165°F. Cut each pan into 25 servings.
Chef Tips
Apples and turkey products pair very well together. Ground beef can be substitutedif ground turkey is not available.